*The Old Fashioned Milk Paint Co. provided me with product to complete this makeover.  However, all thoughts, opinions, and love of milk paint are wholly my own.
Interesting question.  Can an 80s piece of furniture work in today's home??   I'll let you be the judge after you read this post.   This furniture makeover started with a text.  A neighbor friend was putting a big old dresser at the curb, and she wanted to know if I wanted first dibs.   To quote her text, she said it wasn't a nice piece of furniture.    It was actually part of their newlywed furniture!   She was right.  The dresser is not all wood, it doesn't have dovetail joints, the rails are plastic, and the drawer bottoms are pressboard.  While it is not a piece of furniture I would normally flip, it is still a big, useful dresser.  And I bet half the homes in America have a very similar piece of furniture.  Not everyone can afford to go out and buy new furniture when their style changes.  Could this dresser be saved from the curb and given a makeover so it could work in today's home?  Forget about making a profit; this makeover could be a good example of working with what you have.   Challenge accepted, and these sweet neighbors even delivered the dresser!  😀
I've said it before, and I'll say it again:  Black paint can make anything look good.   And with the dresser's batwing pulls (which we'll discuss later) I thought the dresser had a colonial look.  I knew Old Fashioned Milk Paint Company's Pitch Black was the perfect color for this piece.
The dresser was shiny, so the first thing I did was scuff sand with 220 grit sandpaper for the length of about three songs.  (Which isn't bad considering it's size.)   Then I wiped everything down with a vinegar/water mix.  As soon as I started painting, I knew Pitch Black was the right choice.
We all know that a coat of paint can bring out the details in a piece, but it can also show the flaws!    It wasn't until after the first coat of paint had dried that I realized the manufacturer had not filled in any of the nail holes.   Not a big deal.   A little wood filler, sanding, and a little more paint solved that minor problem.
The Pitch Black (with Extra-Bond  added) covered beautifully, and the dresser only needed one coat.  And there was no chipping at all …. or so I thought.   When I checked on the dresser the next day, there was one spot on the top that had severe chipping.  Such a shame, because the rest of the dresser looked stunning.
I brushed off the chips, sanded the area really well, and reapplied paint.   Unfortunately, this actually made things worse.  I believe the water in the paint reactivated the dry paint, and the spot became larger.    I sanded again; wiped it with vinegar/water mix and hoped for the best.   It was better, but still not perfect.   After the third attempt, I cut my losses and threw in the towel.  Something at some point had soaked into that spot, and I believe it was acting as a barrier for the milk paint to soak in and adhere. .  ** And this my friends, is why I prefer to start with a quality or all wood piece of furniture.   If I thought I would see a return on my time, I could have sanded or stripped the whole top and started over.   But that would just be a cosmetic fix.  And no matter how nice it looked on the outside, it would never be in the price range of an all wood, dovetailed drawered dresser.    I've never mentioned it, but I suffer from Raynaud's Disease, and it's been particularly bad this year.   I just couldn't spend any more time in a cold garage working on this piece.   I feel no shame for throwing in the towel.   It's all part of working smarter, not harder.
Once everything had dried, I gave the whole dresser a very light sanding, wiped it clean, and applied a coat of Tung Oil.   Can I just say, that I LOVE the look of Tung Oil over Pitch Black!!   The variations of pigments in milk paint are so beautiful to begin with, but then you add that Tung Oil and it just softens everything.   I look at this dresser and just have to touch it.   In the picture below you can see the area where the paint did not adhere:
Shall we talk about the drawer pulls now??  This dresser has twelve of them!  I wish the budget would have allowed me to replace them.  If I thought I could recoup the cost, I would have gladly added this hardware from Anthropologie: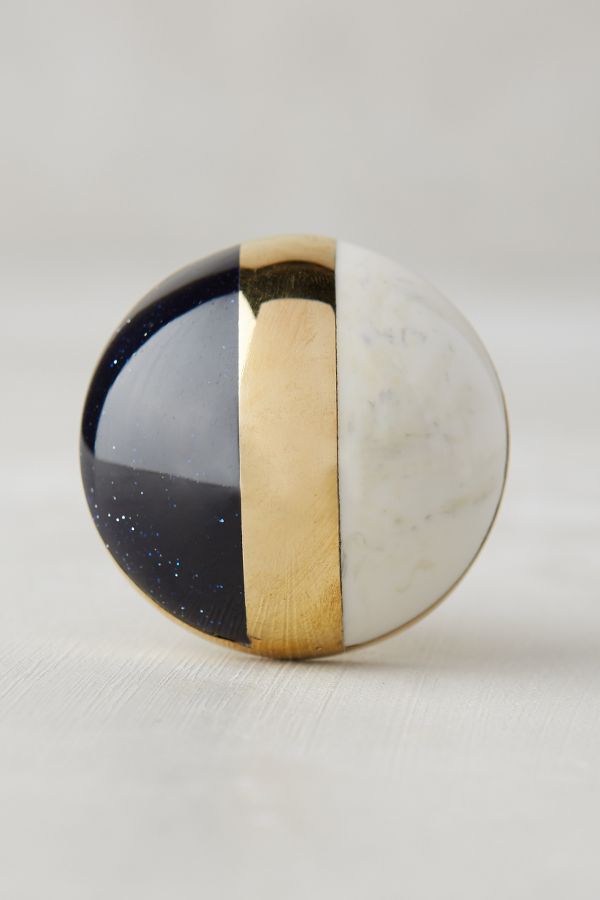 Or this one: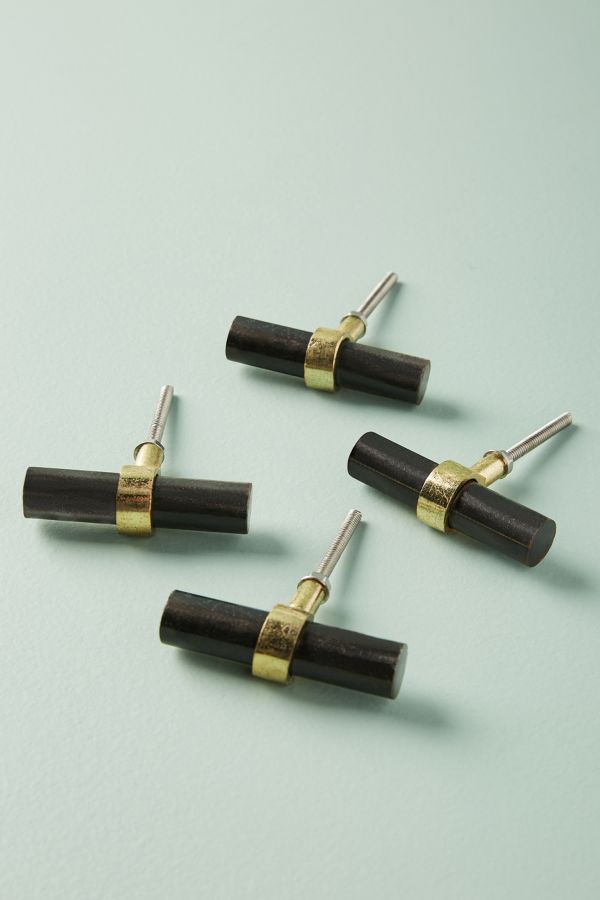 Unfortunately, each of these knobs are $12 a piece, and I would need 12.   That's not happening.   On the D Lawless Hardware site, I found a more affordable bin pull that I liked:
These pulls are only $4.00, but it would still cost me roughly $65 when you include tax and shipping.  Still more than I want to spend on this makeover.   Because of the blemished top, I'm afraid I wouldn't be able to ask $65 more for it.  I've never used milk paint on metal, and this seemed like a good time to give it a try.   After one coat of paint and a light distress, I actually don't hate the batwings on this dresser.    And if the new owner doesn't care for them, they can very easily be swapped out.  😀
So??  What do you think??   Remember, you're the judge!   Would you let this dresser in your home?   I would. Besides being used in a bedroom, I think it would look awesome in an entry way or dining room.
And with the addition of new hardware, I think you could most definitely give it a more modern look.
Murphy's law!  Now that I've spent so much time looking at this dresser, I'm wondering why I didn't just keep the top three drawers and add a shelf below for open storage??!    Hello!  That would have been easy!   Well, at least now I have a Plan B if nobody appreciates it as is.   😉
***   If you like it, don't forget to pin this project for later! ***
As always, if you have any questions regarding OFMP, I'm happy to answer to the best of my ability.  😀    I'm signing off today with my favorite gallery wall photograph:  My sweet little Gremlins climbing down Mount Sinai (or Mount Moses as Egyptian locals call it) with their new Bedouin friend.    Till next time, Cynthia
Linking up with:
Celebrate and Decorate … Savvy Southern Style …. My Repurposed Life … Charm Bracelet Diva … French Country Cottage … Friday Furniture Fix … The Boondocks Blog … Love of Home …. Finding Silver Pennies … Recreated Designs … Dwellings-The Heart of Your Home ….  Between Naps on the Porch … Coastal Charm … Confessions of a Plate Addict … Thrifty Décor Chick …