As far as I'm concerned, this post is all about the "befores".  And I'm warning you, they pictures are not pretty. You may even be wondering why in the world I would purchase something so hideous bright.  ….
Have you ever seen a "rainbow" dresser before? Now you can say you have! 😀  This three drawer dresser was manufactured by Yaeger Furniture in Allentown, Pennsylvania.  I'm guessing in the 1970s??.  While I'm all for letting kids express themselves, and I've got very creative kids, I'd rather they save it for a wall or canvas, clothes, or even hair color.   I draw the line at quality furniture.   And tattoos.    No tattoos allowed.  Because I'm old fashioned like that!!  😉
This dresser made me a little sad. Even though I knew I would face ridicule from the family, I had to rescue it.
 And, yes, they did ridicule me!
Many thanks to Kristi and E for delivering the dresser to me. I was recovering from a minor surgery and wasn't supposed to be doing any heavy lifting. But that didn't stop me from going garage saleing — or getting out the Citristrip 5 minutes after their truck pulled away!! 😉
 Even all the beautiful original hardware had been painted!   🙁  🙁   🙁
 As you may have guessed, I ended up stripping the whole dresser. This turned out to be a job and a half.  Besides the rainbow top coat, the dresser had once upon a time been blue, white, and yellow.
I've been looking at a lot of Land of Nod and Restoration Hardware children's catalogs, and I found inspiration in RH's Harlowe Collection. I love it's finish, and the dimensions and hardware are almost identical to my rainbow dresser: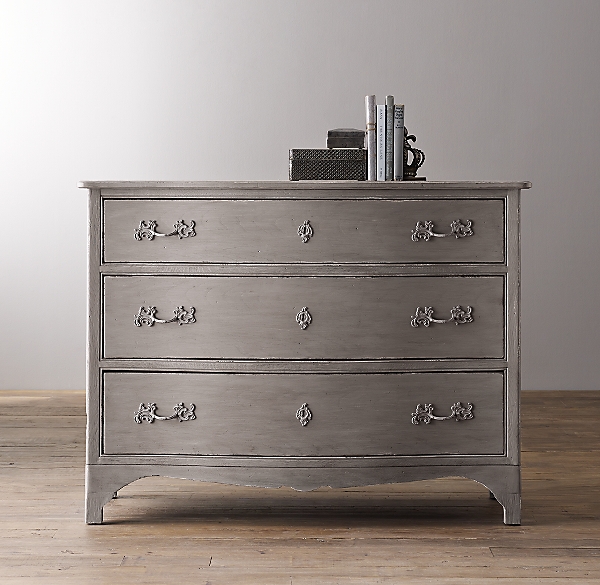 Alas, it wasn't meant to be.  But it certainly wasn't from lack of trying! Sometimes things just don't go as planned.
Unfortunately, I couldn't completely get the paint off of the body of the dresser, so I had to settle for staining just the top.  "Goodbye RH Knock Off. Maybe next time…"  🙁  On to Plan B.
I initially gave the top of the dresser  two coats of Varathane's Wood Stain in Driftwood, but it ended up looking like flat gray paint. Not at all what I was going for.  This was totally my mistake, by the way.  It says right on the can "one coat necessary".  Sometimes you just need to walk away.  So I let the dresser sit for a couple of days, and came back and went over the top with one coat of Varathane Wood Stain in Sunbleached.  Phew!  So much better. The top now has a softness and movement to it that I happen to love.
 As for the body of the dresser, I gave it two coats of Sweet Pickins milk paint in the color Galvanized. Once again it didn't go as planned.  There was no chipping at all, which you come to expect when painting with milk paint.  And the finish just looked flat. Flat I can live with, but it was also the wrong color grey.   (Heavy sigh.)   It didn't match the stained top at all, which you'll remember I'm now happy with.  On to Plan C.
 I was planning on painting white in the recesses of the drawer fronts, and I decided to just whitewash over the whole body of the dresser. I watered down some Annie Sloan Old White chalk paint and painted it on and wiped it off with a damp rag. It really does look like driftwood to me. The white brightened up the dull gray, and it now complements the stained top.
The insides of the drawers were all paint splattered, and as much as I hate covering up dovetail joints, I had to do it. A lot of my customers are pregnant, and I couldn't imagine a new mother putting baby clothes in those ugly dresser drawers. So they were given a coat of General Finishes Persian Blue – inside and out. It's actually a nice surprise to open the drawers and see that sweet pop of color.
In the photos below, I've staged the dresser in a child's bedroom :
Isn't this little bunny the cutest thing?!!  Sweet Daughter designed and stitched it for my birthday!  (And she even "put a bird on it", which is a running joke around our house.   It's hard to see, but the bunny is actually wearing a bird necklace!  I think she will hereafter be known as "Talented" Daughter instead of Sweet Daughter!
  To finish the dresser's makeover, the whole thing was given two coats of General Finishes High Performance Top Coat, and I thought I was finally done with this project.   The only thing left to do was add the hardware, which I had also stripped.
Nope.
Have you noticed the beautiful original hardware is missing? (And are you detecting a pattern with this makeover?!!)
While I was able to strip the hardware back to it's original brass finish, the dresser now looks nothing like my RH Harlowe inspiration piece.  My dresser is all cottage and beachy, and the original hardware is dainty … fancy even!  And wouldn't you know I still have the original hardware holes!  [Are you as sick of this makeover as I am?!!]  Fortunately I was able to find hardware that matched the style of the dresser and the existing hardware holes and I even like them!
To be completely honest, I'm still a little disappointed that I couldn't pull off my RH knock off. I also realize that my driftwood dresser isn't going to appeal to everyone. But I do hope that people can appreciate how far it's come and realize just how much work went into it's makeover. [If I hadn't walked away from the dresser a couple of times, this one would have definitely been left curbside!!]
Would I do it again? Joke's on me …. I already am!! 😀  Thanks so much for stopping by!  Cynthia
Linking up with:
Lehman Lane … Knick of Time .. … Embracing Change …   …..  ….. Dwellings – The Heart of Your Home … Between Naps on the Porch … … Coastal Charm …  … Cedar Hill Farmhouse … … Thrifty Décor Chick … The Curator's Collection …… Recreated Designs … Unique Junktique … The Boondocks Blog …
THRILLED TO BE FEATURED AT:
Before and After Party – First Monday of the Month @ Thrifty Décor Chick
Hit Me With Your Best Shot @ Just a Girl and Her Blog
Dream. Create. Inspire. Link @ Lehman Lane
Be Inspired @ Elizabeth and Co.
Creative Inspirations Linky Party @ Embracing Change
Making Broken Beautiful @ The Curator's Collection
Sizzle Into Summer  @ DIY By Design
Bewitchin" Projects Block Party @ Recreated Designs
For your convenience, I've linked to some of the products used to complete this makeover.  If a purchase is made, it's possible I may receive a small commission, but it does not affect your sale price.  Just  sharing products I actually use and like.  😀