Hello friends!    I hadn't planned on taking a blogging break, but when the job that actually gives you a paycheck gets busy, unpaid hobbies get put on the back burner.   I'm sure you can relate!   Even though I was crafting and creating like crazy, nothing was documented other than the occasional Instagram or Facebook picture.  With that being said, I do have a fun project to share today, and I'm so glad we're both here!
In the past year I've shared numerous ways to transfer an image.  I've used stencils; reverse stencils made out of contact paper; the chalk transfer method.  I even shared how I made my own stencil.   Well, today I have another transfer method to share with you.  This time we'll be using freezer paper!   This method has been around for a long time, and I didn't create it, but maybe it's new to some of you??   It's so easy, and it can even be used on fabric!
Okay.  Another reason I haven't been posting.   All of my "before" pictures were deleted from my camera!!   Apologies for no actual before picture, but here's the skinney.   I picked up an old dark tray at an estate sale for $5.  It's a light weight cheap reproduction, and it was in rough shape.  But it has interesting details and is a great size.  I knew with a little paint and a French design it could be elegant again.  I thought I could use it in my newly remodeled bathroom.   Plus it passed the "Latte' Test".   "What's this test" you ask?  Well, when I'm out thrift shopping for home décor items, if I think something is overpriced, if it's cheaper than a latte', I'll usually buy it.  Truth:  This tray was $5, which is slightly more than my grande nonfat no foam extra shot latte', but no way was I not going to buy it.  I might be cheap, but I'm not stupid!  LOL  😀
After a good cleaning, I gave the tray two coats of leftover paint from the interior of my bathroom storage cabinet.   The color is SW Repose Gray mixed at 50%.   When the paint was dry, I gave it a quick distressing with 220 grit sandpaper, and a wipe down with a tacky cloth to remove any dust.   The tray is now ready for an image!
It didn't take long on The Graphics Fairy site to find an image that would be perfect for a bathroom tray.   Remember, if you plan to transfer an image with words, you'll have to "mirror" the image. This website is so awesome, many of the images have the mirror image all set for you and are printer ready.  😀   Here is the image I used for this project (for reference only).  Please pin/copy directly from The Graphics Fairy because it's her image. Thank you for following this courtesy.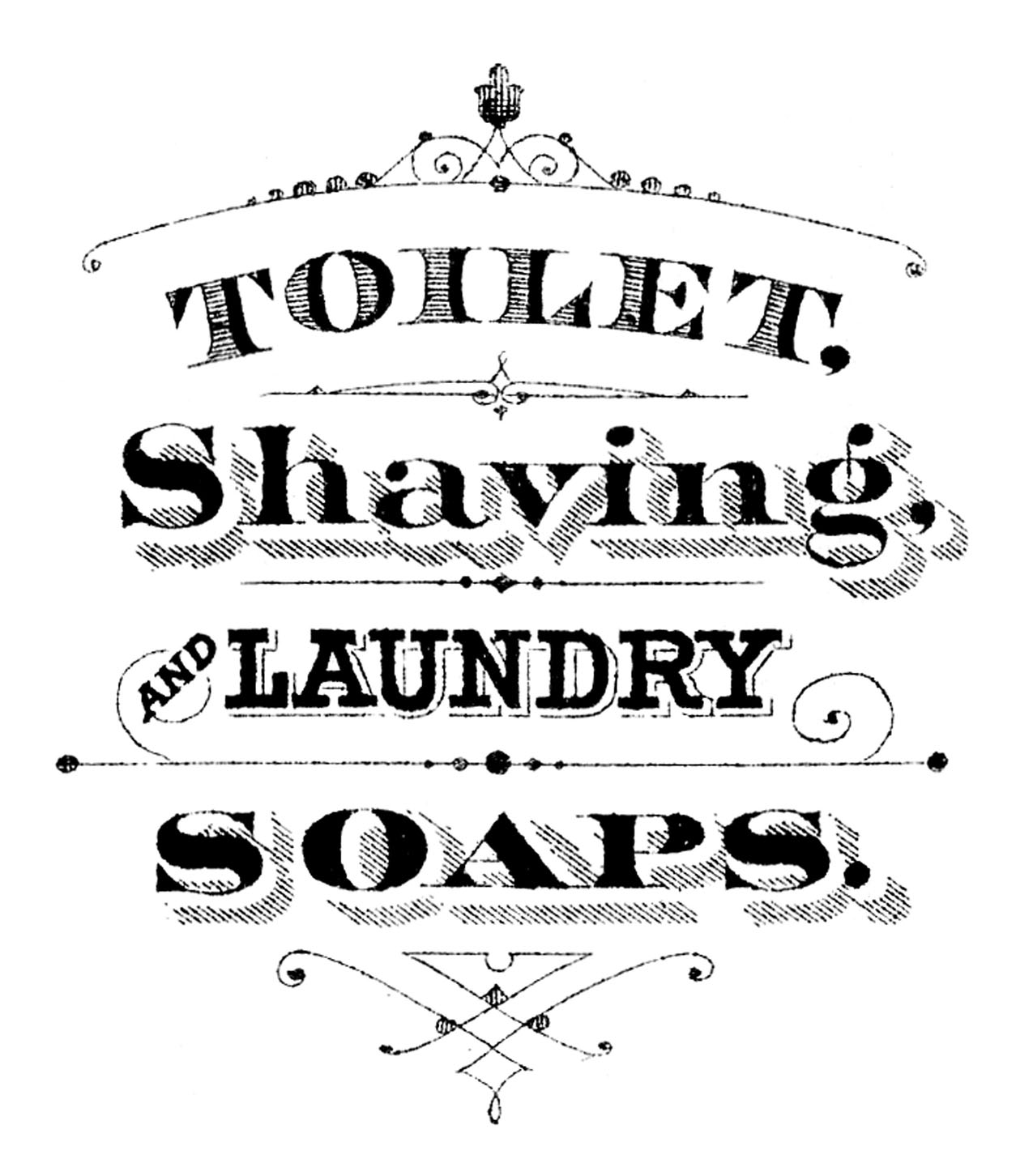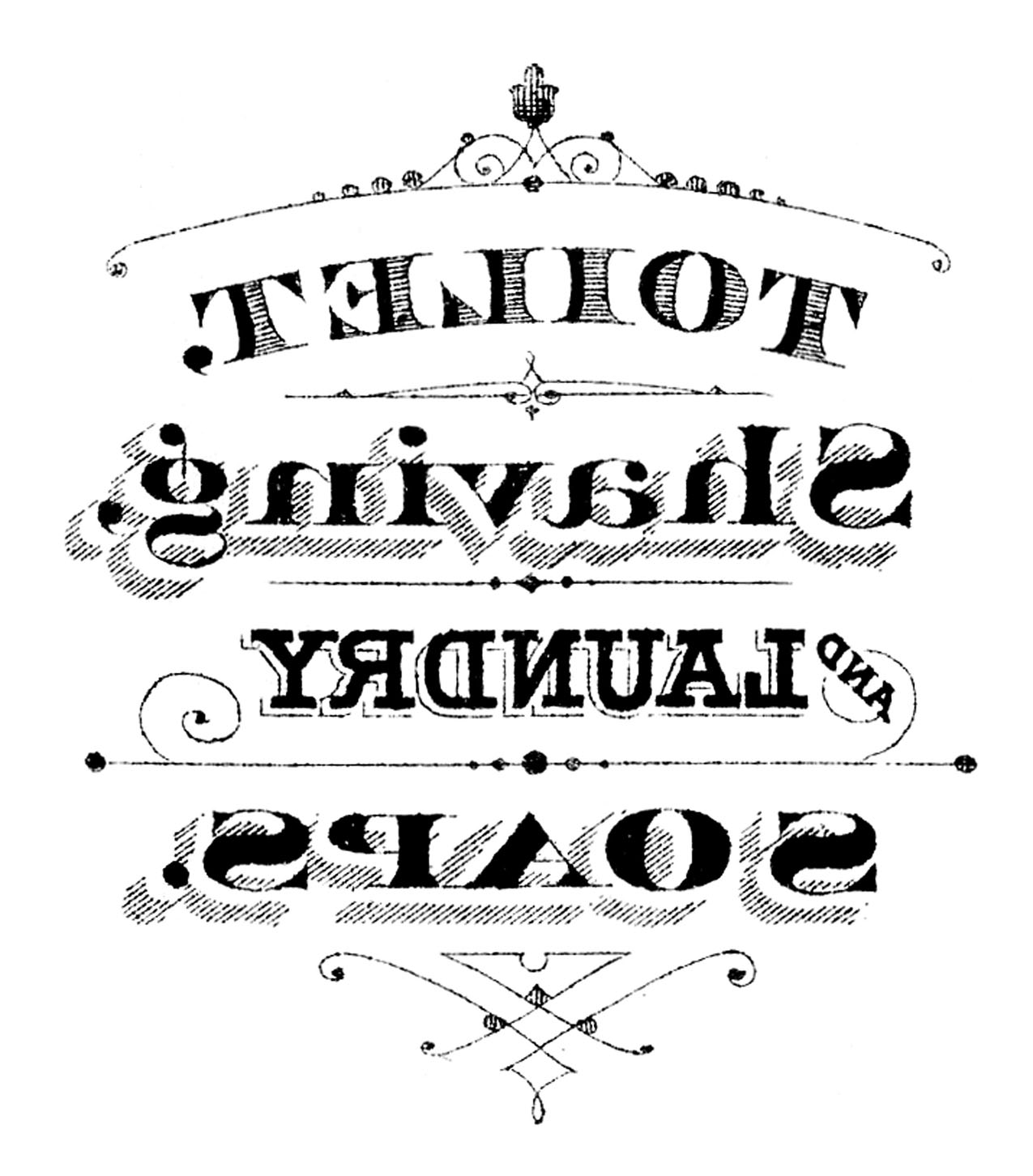 Important TIP:   For this transfer method, we are essentially "transferring" the wet ink to the painted surface of the tray via the freezer paper.   If the ink dries, No Bueno.  You'll need to have everything ready and waiting for when you hit that print button.  You will not have time to go on a search for painter's tape, etc.  And it's best to work on a sturdy, flat surface.  (In my case, I worked right on the office floor because that's where our printer is located.)  😀
I've got my image, so now it's now time to get the freezer paper ready to print.  I found it easiest to "loop tape" the freezer paper (shiny side out!) to a sheet of printer paper and cut off the excess.  This extra step will help the freezer paper feed through the printer.   You could probably use a glue stick, as well.  Remember, we want to print on the shiny side of the freezer paper.  So place the freezer/copy paper combo into your feeder tray accordingly.   Print.
Being careful not to smear the wet ink, carefully place the paper face down where you want your image to be.  (I like to tape it in place with a bit of painter's tape.)   Carefully use a credit card, spatula, big spoon, etc. to rub over image to transfer it to your surface.   To help reduce smearing, rub in one direction.   Once you're confident the image has transferred, carefully lift paper.   Voila!  Transferred image!
Now the hard part.  Let it be.  I wouldn't touch it for at least 24 hours.   If your finished project will be hung on the wall, not touched, etc., I'd say you're done.   But if you want to protect your image, give it a quick light coat of spray polyurethane.  It's possible that even with the extra drying time, wax could smear the image, thus the spray.
It's a pretty tray, but it needs something more.
The tray was looking a little too new to me, so I aged it with a quick coat of Daddy Van's Antique Brown decorative wax.   Have you used / heard of Daddy Van's wax?  It's AH-MA-ZING!   It's made with all natural products, so it's 100% chemical and solvent free.  You can even get lavender and orange smelling wax!   😀
I applied the dark wax lightly over the entire tray, and then "smooshed" more wax into the raised details.   Poof … instant aging, and yes, it's that easy.  And yes,  I'm that technical!  LOL   Remember, I had already sprayed the tray, so it's base color didn't get too dark.  If you are working with a lighter paint color, I don't recommend applying a dark wax as your first coat of protection.  It could drastically change your paint color, and you wouldn't be happy.  You'll have better control and a nice even finish if your first coat of protection is a clear one.   The goal is to age your piece, not give it a giraffe finish!  😀
Here is the finished tray!  I love it!  It's the perfect bathroom accessory.  I now realize I've never shared the completed bathroom with you.  So sorry about that!  I'll try to take pictures on the next sunny day.  It's pretty.  You'll like it.  I'll keep the post real, and will give you tips on where I feel you can save money, in case you're considering your own remodeling project. 😀   Take care, Cynthia
*****   Don't forget to pin this project for later!   *****
Sharing with:
Charm Bracelet Diva … French Country Cottage …  The Boondocks Blog  … Love of Home … Finding Silver Pennies … Recreated Designs … Dwellings-The Heart of Your Home … Between Naps on the Porch … Coastal Charm … Celebrate and Decorate … Confessions of a Plate Addict … Savvy Southern Style … My Repurposed Life …  Thrifty Décor Chick ….  … Unique Junktique …
THRILLED TO BE FEATURED AT:
Fridays Furniture Fix @ Unique Junktique