This post may contain affiliate links.  You may read my full disclosure statement here.
Hello!  Today I'm sharing the last furniture piece in our dining room makeover: The table and chairs!
With the help of my HomeRight Finish Max sprayer and large HomeRight spray shelter, this was a fairly simple project.  The table and chairs were sprayed with SW Tricorn Black, which is the same color as our  "new" buffet.
The only hiccup in the project was I initially sprayed the two arm chairs with SW Honorable Blue.  My thinking was the blue chairs would "play nice" with the blue china cabinet.
But once all the furniture was back in the room, the blue chairs were a little much.   Even for a color lover like me!  LOL    The arm chairs matched the china cabinet, but they didn't look so hot with the new rug (which I'm IN LOVE with!)
It was an easy fix to respray the two arm chairs with Tricorn Black.
And while my paint canister was full with the interior/exterior enamel paint, I decided to give our black wrought iron furniture a much needed spraying.   Remember, we always want to work smarter … not harder!
If you have furniture with straight clean lines, spraying is the way to go.   Just look at that flawless finish!!   Our table and chairs have no interesting details that would benefit by my spending hours with a paint brush and can of dark wax.    Not for one second did I consider painting them by hand.  Plus, it was summer, which is too short in Seattle.  I needed to be outside!
I definitely prefer the cohesiveness of having all the chairs the same color.  It's calming to me.  And the black paint gives the dining room a modern look, which was something that was lacking.
If I can get my hands on more Indigo Florence print fabric, (I've got enough for just one seat!) I may recover the two arm chair seats, as well.  This fabric is one of my favorite things in the room!
The photograph below was published in HGTV Magazine.    I tore out the page; circled the chair with a red sharpie, and wrote "LOVE" underscored three times.   The malachite-pattern chair was the inspiration for my fabric choice.  The whole article, actually,  gave me the courage to make bold choices in the room.  That and the Chihuly vase.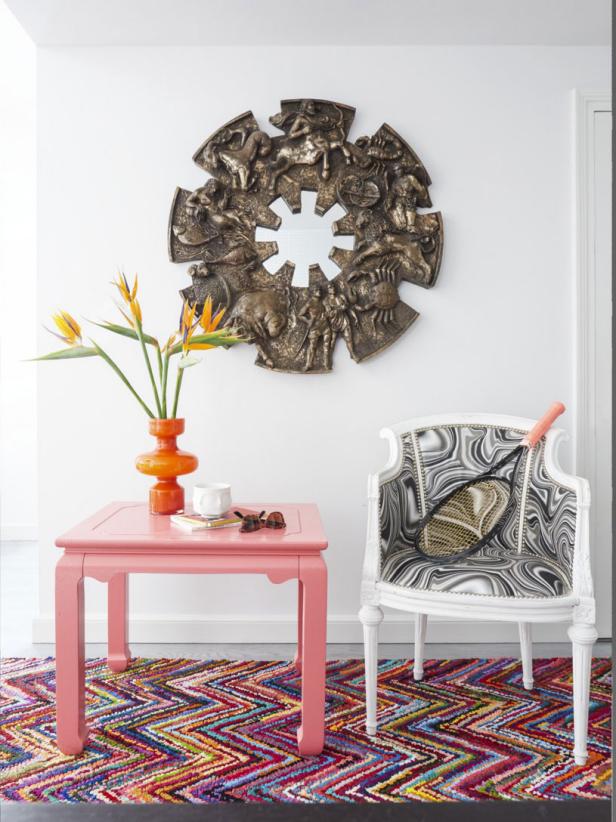 If you missed it, last week I shared my Ballard Designs inspired graphic art work, which I thought was going to be hung on the dining room walls.    I ended up going in a completely different direction.  The  "new" art work is lovely, and it's framed and ready to be hung.  I've been dragging my feet because I'm a freak, and I hate pounding nails into a freshly painted wall!
How about if we end this post with a really old BEFORE picture:
It doesn't look like the same room, does it??!   You know it's coming.   Say it with me!  The power of paint never ceases to amaze!!  Till next time, Cynthia
/////     If you like this project, why not pin it for later?    /////


Sharing with:
French Country Cottage … Unique Junktique … Love of Home … Finding Silver Pennies …  Between Naps on the Porch  …  Celebrate and Decorate   … My Repurposed Life … Savvy Southern Style … Our Hopeful Home  … The Boondocks Blog  …  Stone Gable Blog …