Hello sweet friends!   Hope you are all doing well!   Between teaching Zumba, painting furniture, and trying to update our 20+ year old house, some days I feel like I'm just chasing my tail.    It feels so good to have an actual finished project to share with you today!
If you follow Clockworkinteriors on Instagram (the little camera icon on the sideboard), it's possible you've seen the "before" of this china cabinet that I purchased to use as storage in our new bathroom:
Okay.  Before we get to the elephant in the room … Remember the white MCM bedroom suite that I refinished for my daughter?  Remember that I eluded to the fact that someone / something had scratched the top??  Well, just look at what's in the background!! I'm thinking whoever unpacked whatever was on that pallet may be my number one suspect!  There is most definitely something sitting on the top of that dresser!
Okay, now onto the other guilty party.  Yes, I painted over mahogany veneer.  And I realize some of you are thinking, "Why would she paint that?!"  (Social media isn't always very "social", if you know what I mean!)  (To be fair, the hutch didn't look this good in person.  It had quite a few dings.  And the red tone just doesn't match our bathroom.)  The plan was always that I was going to paint whatever storage piece we found.  It was going to be the pop of color in the room.   But I'm really not that cold hearted.  I tried my best to find a fixer upper (it certainly would have been cheaper!), but they were all too large for the space or just plain ugly.  And please know that the cabinet wasn't someone's precious family heirloom.  I bought it out of a guy's stuffed storage locker.  And isn't it better that this piece will be used and loved each and every day??  If my bold type still hasn't swayed you, wait until you read the price comparisons of buying new.  And the hutch is still wood … it's still in one piece … the paint can always be stripped off …. that person just won't be me!  LOL  😀 😀
Deciding on the color was easy.    As soon as I saw the Cooper Dining Table in an Ethan Allen sale catalog, I knew indigo blue was going to be the pop of color in our new bathroom:
Besides the price tag, what's not to love about that room, right??!   Another plus of picking a darker shade is I wouldn't have to worry about the tanins bleeding through, which can happen when you are painting over mohagany or other red stains.  (FYI: For the interior of the hutch, I first rolled on two coats of Zinsser Bulls Eye 123 Primer, and there was still a little bleed through.  However, two coats of the actual paint took care of the bleed through.)
Here's a couple "work in progress" phone pictures:
The paint color of the hutch's exterior is SW Indigo and the interior is SW Repose Gray mixed at 50%.
If Seattle hadn't been having it's wettest October on record, this would have been a great project to spray.   I'm 5′ 3 ", and taller pieces always take longer when painting with a brush.  Spraying would have been a "breeze". 😉
And here's the hutch in it's new home!:
To refresh your memory, before our  bathroom remodel, this is where cleaning supplies and my hair products were "stored":
Now the cleaning supplies are out of sight:
And my hair products now have a proper home:
To say I'm pleased that linens and toilet paper are no longer stored in my closet would be an understatement!
And I've even got room to grow!  The glass plates can easily be hung on the wall.  😀
The hutch's original hardware is one of my favorite styles, but I decided to use the same glass knobs that we purchased for the vanity doors.  They are lovely, and the glass really sparkles:
Was it worth it to repurpose an old china cabinet as bathroom storage?  If you're a numbers person, lets do some comparisons. My costs were: The Hutch: $150;  Hardware: $15;  Paint:  $15;  Primer:  Already had … used minimal; Tape:   Already had … used minimal; TSP Substitute:  Already had … used minimal.
Clockwork Interiors' mahogony hand painted china cabinet $180:
Restoration Hardware Kent Tall Bath Cabinet is $1,450; cheaper if you're a member, but shipping STARTS at $199: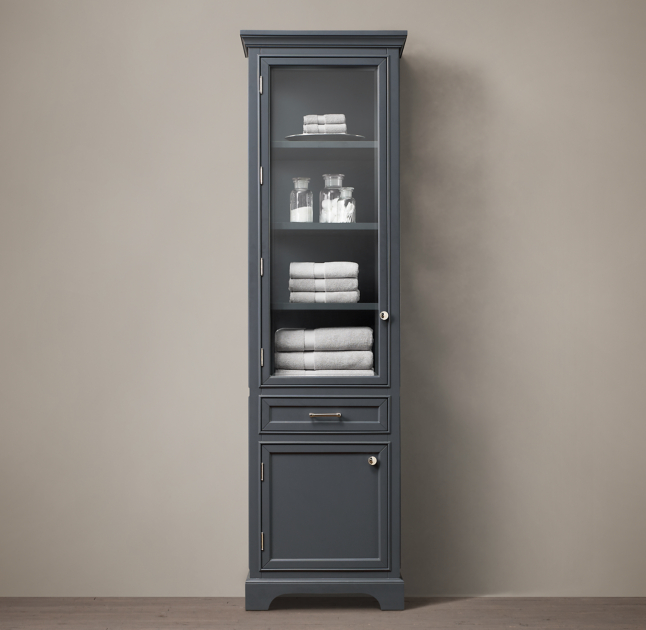 Pottery Barn Classic Linen Closet (made of MDF and poplar) is $999; not including shipping: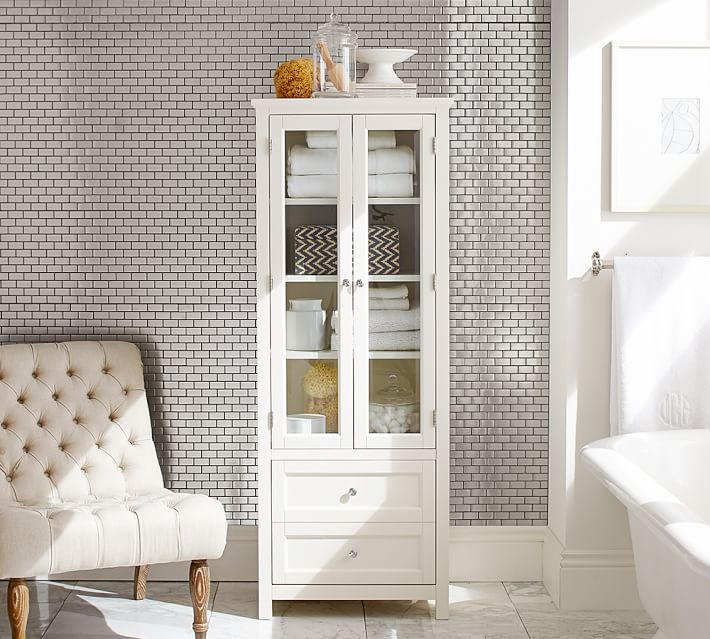 Hey!  Looks like we used the same floor tile!
Let's check out where I found my inspiration.  Ethan Allen.  Here is their, albeit larger, Lombardy China Cabinet (gemalina (?!) wood with oak veneers) $6,768!:
It's gorgeous … as it should be for that price!
Are you with me??  If these were one of a kind, unique, original pieces, I would consider paying shipping fees.  But for mass produced MDF?? No way.  If you need extra storage (in any room!) consider repurposing a piece of furniture.  In our area,  people are basically giving away larger media cabinets and pine hutches.   I saw some as low as $50!   A wardrobe or dresser are also great pieces for storage.
/// PIN FOR LATER ///
If you have any questions on this makeover, leave a comment.   I appreciate, read and answer each and every one.  I'm currently working on some real fun pieces, and I'll post on them as soon as I'm able. But in the meantime, I usually share sneak peeks on Facebook and Instagram.  Take care, Cynthia
Sharing with:
Charm Bracelet Diva … Seeking Lavender Lane … French Country Cottage …  … The Boondocks Blog …  … Love of Home … … … Finding Silver Pennies … Recreated Designs … Dwellings-The Heart of Your Home …  Between Naps on the Porch … Coastal Charm … Confessions of a Plate Addict … Celebrate and Decorate … My Repurposed Life … Savvy Southern Style …  … Thrifty Décor Chick … Unique Junktique …
THRILLED TO BE FEATURED AT:
The Creative Circle @ Seeking Lavender Lane
Celebrate Your Story at Celebrate and Decorate 
Knock Off Décor – Restoration Hardware
Before and Afters @ Thrifty Decor Chick