There is nothing I like more than a good knock off project.  And my Ballard Designs inspired wall art is no exception.   Plus, I was able to use up art supplies I already had on hand, which helps in my never ending battle to eliminate craft clutter!!
The vibrant blue in Ballard Design's Intersection Art caught my eye.  Actually, with the exception of the oyster shell chandelier, I adore everything in this eating area!!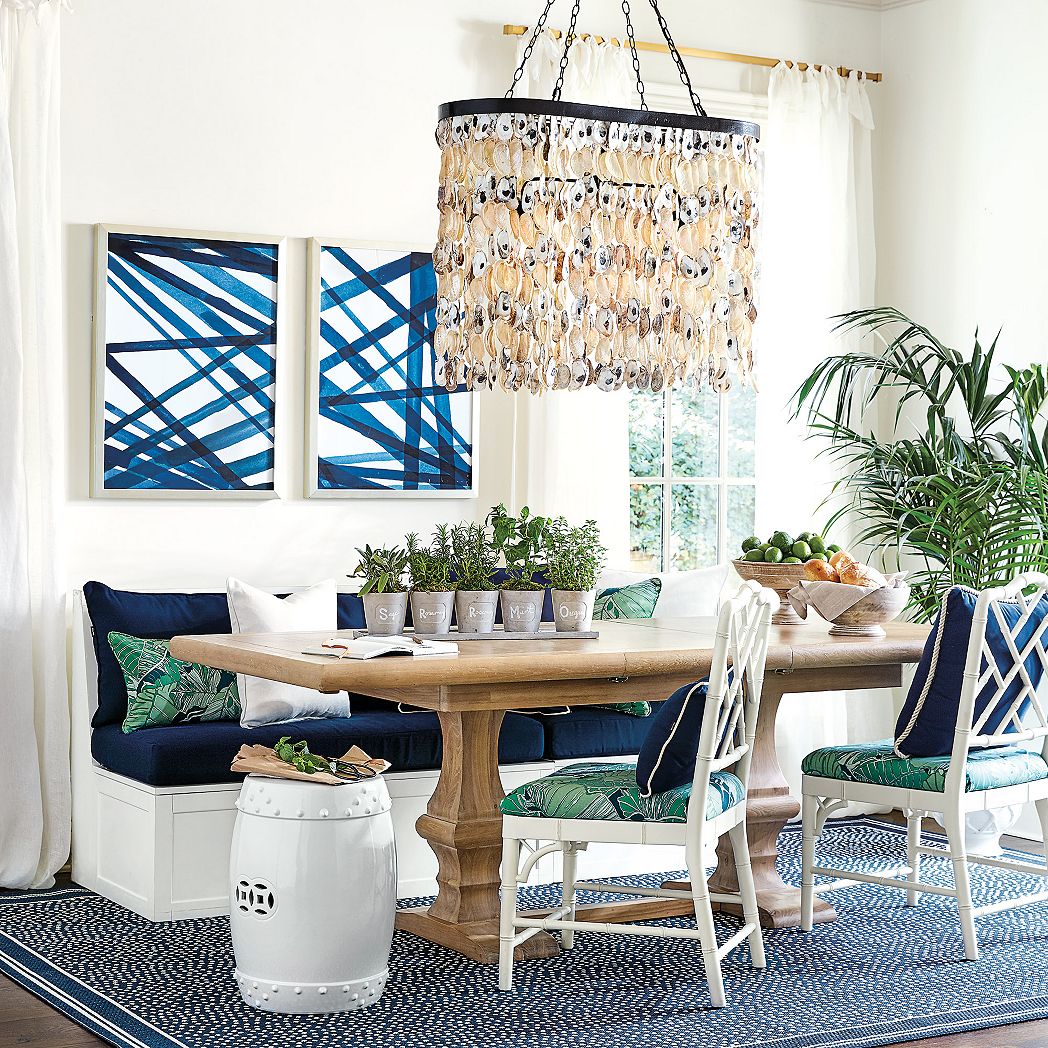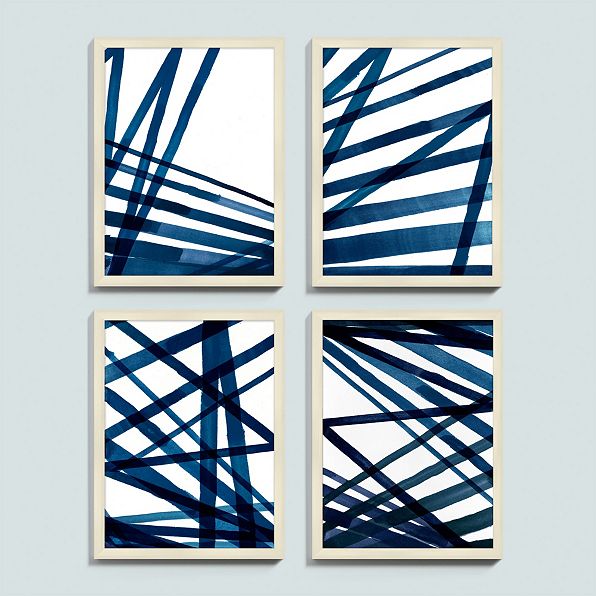 Ballard's art is brushed on paper, while I used canvas.   Their smallest print measures 25″ x 19″ ($209) and the largest frame is 41″ x 31″ for $449.   Note:  These prices are per print!
Deja vu!!  These prints are so similar to a craft project I did with my kids.  I let them dip their little cars in paint and they "drove" them on paper, creating gorgeous art !! I now realize that is why I'm so drawn to these prints!!  (I've actually saved way too much of their art.  If I find the "Racetrack" art, I'll be sure to add a picture.)  😀
To get the painting party started, I first practiced on drawing paper.   I was using the paint left over from the dining room blue china cabinet, which was already diluted, so I already had my watercolor.  I practiced using craft paint brushes of various sizes, to see what effect I preferred.   No rules here!  What looks good to my eyes may look horrible to yours.  Just have fun with it, and make the design your own.
When I felt like I was ready for the real thing, I dug out a four pack of 8.5 x 11 flat canvases that I had purchased from Ross for the whopping cost of $4.00.
My family thinks I'm sorta sad, but I'm really happy with how the canvases turned out!!
When I looked in my stash of leftover frames (remember, the goal of this project was to use items I had on hand) I only had two frames that would work with the canvases.
To keep the canvas in place, I actually duck taped it to the frame's mat.  I guess I'm just professional like that!  😉
The original plan was to hang my watercolor art in the dining room.   However, as the room progressed, I went in a completely different direction.   Not to worry.  You may recall  I also have a blue china cabinet in our bathroom:
And my DIY art work looks right at home in the toity room.   I'm aware that this doesn't necessarily make for a pretty picture, and it was next to impossible to get a shot of them hanging on the wall.  But I promise the prints do look great in person!
 /////    IF YOU LIKE THIS PROJECT, BE SURE TO PIN FOR LATER!    /////
So there you have it.   My Ballard Designs inspired art work for basically the cost of a picture frame.  And if you're like me, you always pick them up on a BOGO deal.  Sincerely hope you have a wonderful week.  Till next time, Cynthia


Sharing with:
The Interior Frugalista  … Our Hopeful Home    … The Boondocks Blog …  Love of Home … Finding Silver Pennies …. Unique Junktique …  Between Naps on the Porch … Stone Gable Blog … Celebrate and Decorate …  Savvy Southern Style … French Country Cottage …